Rita DeMara, former lab assistant to Dr. Henry Pym, had ties to fellow assistant Darren Cross, and became the second Yellowjacket.
Powers and Abilities
Edit
Yellowjacket Suit: Yellowjacket relies on the devices built into her helmet and costume for her superhuman abilities.
Blast Power
Gadgets
Power Suit
Size Manipulation
Alternate Yellowjacket II design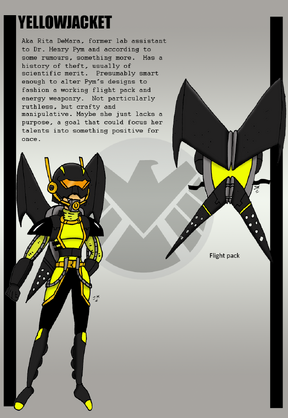 Ad blocker interference detected!
Wikia is a free-to-use site that makes money from advertising. We have a modified experience for viewers using ad blockers

Wikia is not accessible if you've made further modifications. Remove the custom ad blocker rule(s) and the page will load as expected.